For your next family vacation, be sure to look into one of the Aspen Trail 2810BHS travel trailers for sale here at Topper's Camping Center! These single slide bunkhouse campers come with many floor-plan options to fit up to 10 people! Let's take a closer look in this Aspen Trail 2810BHS travel trailer review and find out why this is the perfect RV for your family.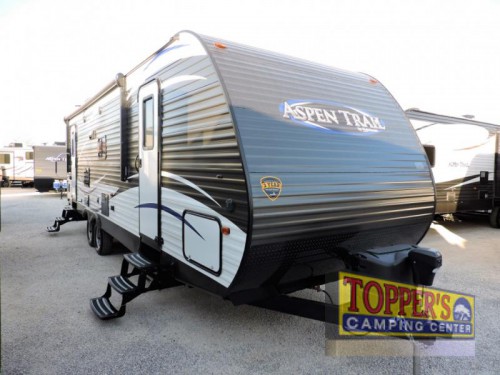 Sleeping Space for All
As we already mentioned, this Aspen Trail has room enough for 10 people, and one way it does this is with its innovative sleeping solutions. There is a private master bedroom at the front with its queen bed, and at the rear, you will find a set of double bunk beds complete with privacy curtain and ladder for easy access. But there will also be a U-dinette and sofa in the slide that can be converted to beds to make them functional furniture both day and night.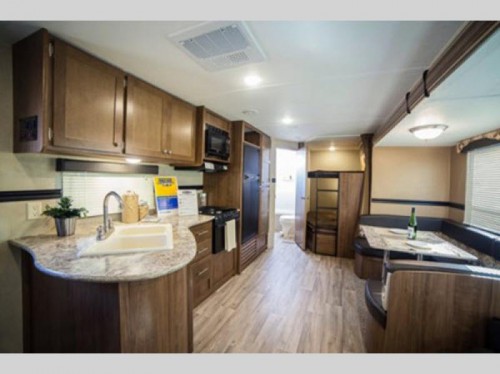 Full Kitchen Amenities
With the slide located in the main area, it will open up this space and make room for all of the kitchen amenities you need to cook each and every meal. You'll love the ample counter space including an angled section for the dual sink. Plus, with the extra room, you'll get a fridge, microwave, 3-burner range, and even a full pantry for all of your food storage and preparation needs.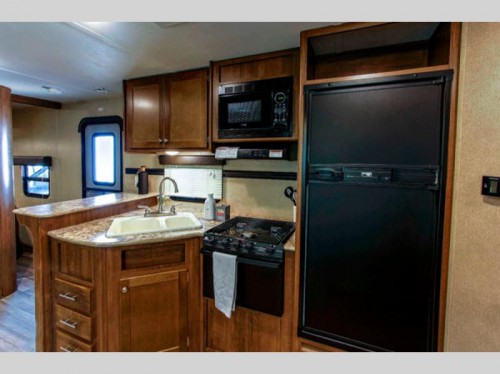 Private Entrance Bathroom
As with most travel trailers, this RV comes with its own private bathroom complete with everything you need. But one thing that is spacious about this area is that it has a second entrance from the outside directly to it. So if you need to use the bathroom, you never have to trapse all the way through your camper again but can easily reach it through this second, convenient entrance.
With plenty of sleeping spaces and every at-home comfort, our Aspen Trail 2810BHS travel trailers are the ideal family RV. To find out more about how you and your family can start living the RVing life, contact us, or just come on down to our location and tour one of our many travel trailers to find the one that is right for you!