Imagine building a toy hauler travel trailer that was made just how you wanted it.
Would you make it wide and high enough to hold all your toys?
Would it have tie downs where you need them most?
Would it have a side patio and a large capacity fuel station?
Would it have some cool lighting effects, too?
Congratulations! You just made the Cruiser Stryker Toy Hauler Travel Trailer.
The Stryker was built based on extensive feedback from motorsports enthusiasts. With a 102" wide-body chassis, this toy hauler will accommodate a wide variety of side by sides, ATVs, motorcycles and more.
The 81″ under bunk clearance allows for even more flexibility in storing your motor vehicle. 5000 lb steel mounted tie downs have been strategically located for maximum options in securing loads.
With a massive fiberglass front cap lit up with three LED strip lights, you are sure to turn heads while traveling down the road.
In addition, the Stryker has even more unique features that make it really stand out:
Fuel station with 30 gallon capacity and optional secondary generator tank
100+ gallons of fresh water storage
All LED lights, both inside and out
A single key for all locks via the SmartKey system
State-of-the-art suspension system with Equa-Flex, gas shocks and greaseable wet-bolts, a first in this segment
Red underbody ground effect lighting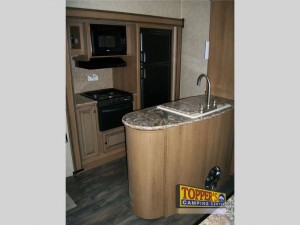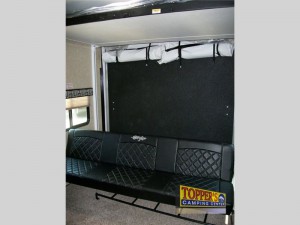 With a comfortable, residential style interior, you will find the Stryker a joy to relax in at the end of the day. With a barrel ceiling, the interior feels open and spacious.
Whether you're looking for a kitchen island, separate garage or side patio, the Cruiser Stryker Toy Hauler Travel Trailers have the perfect floorplan to fit your needs.
The Cruiser Stryker toy hauler travel trailer is the perfect choice for any outdoor enthusiast that's serious about their motorsports. Contact Us at Topper's RV for a personal tour of these super tough and sharp looking line of toy haulers. You are sure to be impressed.