Everything from the superior construction to the interior design of the Kodiak Cub Ultra Light travel trailers for sale here at Toppers RV Camping Center make this camper the ideal blend of comfort and functionality. Both of the floorplans available provide a luxury living space wherever you choose to take it, and in this Dutchmen Kodiak Cub travel trailers review, we will look deeper into just what makes this camper amazing!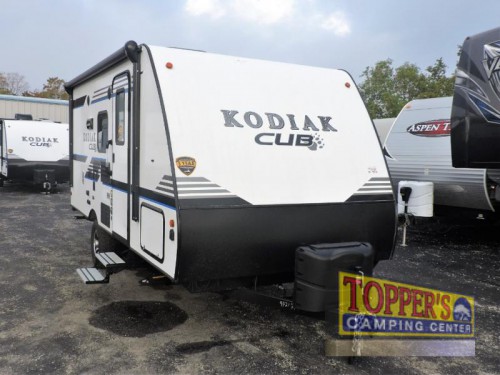 Easy-To-Tow
One key feature of the Kodiak Cub is the ease of which you can tow it to any location. The frame of this RV is made with high quality materials that will add strength and stability without adding a lot of weight. Therefore, this lightweight design plus the more aerodynamic profile make this one of the easiest models to tow that will not only make your trip more enjoyable but will also save you money by increasing the gas mileage you get no matter where you go.
Superior Setup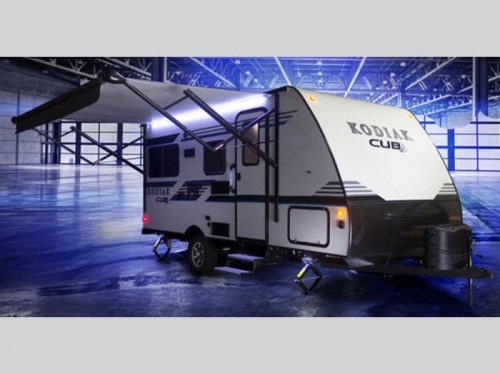 Once you reach your campsite, you will find that this travel trailer comes with plenty of features to make setup easier and more enjoyable. Each stabilizer jack will come with its own LED light located over it to allow you to work in the dark, and with the completely electric, Carefree awning with LED lights, you can put up your camper's awning at the push of a button! You'll also love how easy it is to unload your belongings from the huge, pass thru exterior storage compartments with LED rope lighting spanning its entirety.
Creature Comforts of Home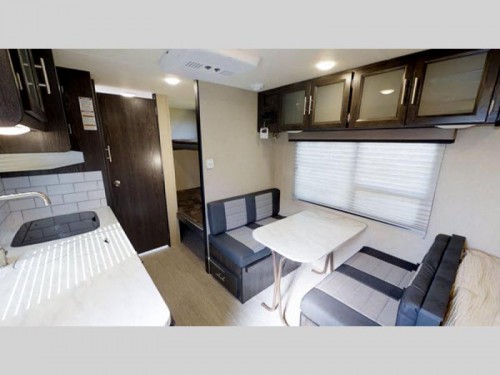 Even with the compact design of this Kodiak Cub Ultra Light travel trailer, you will still have all of the at-home features you want right at your fingertips. Get the basic bathroom amenities as well as a full kitchen complete with all stainless steel appliances, Subway tile backsplash, a pantry with removable shelves, and so much more! And with a queen sized master bed as well as bunks including a double bunk under a single bunk, you'll have enough room for three to four people to have their own comfy space.
Get ready to hit the open road with the comfort and easy travel provided by our Kodiak Cub Ultra Light travel trailers! Be sure to contact us or come down to our location today to learn even more about these incredible RVs and how they can make your next vacation the best one yet!