Right now, you can find incredible prices on the Rockwood Geo Pro Lite travel trailers for sale here at Topper's Camping Center! With discounts reaching as much as $3,989, you can enjoy all the options available for a much affordable price. Let's take a look to see the features you can enjoy for a fraction of the regular cost!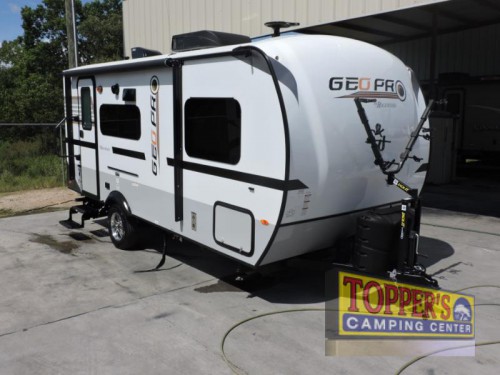 Off the Path Camping
The Geo Pro Lites are designed to bring comfort to the outside world by adding features to assist with camping off the beaten path. Be ready with both roof and  ground solar wiring that allows you to enjoy energy without having to be plugged in. And you can still stay connected with the built in WiFi Ranger WiFi booster! You'll always be comfortable no matter where you park your camper.
Get the Perfect Fit
The interior of this Rockwood travel trailer will have every piece of home you need to truly be comfortable at the campground. And with seven floorplans, you can find exactly what you are looking for. Whether you want the compact design with just enough space for a queen bed or need something a little larger with an expandable section or slideout and enough room for four people, there will be a RV with the right size. Plus, you can even find models with a kitchen, combo or full bath, bunk beds, and more to truly get the perfect fit.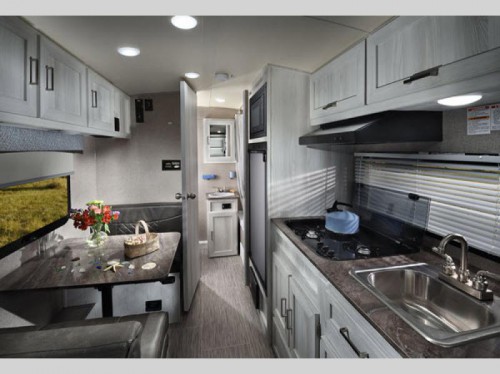 Lightweight Towing
The key feature of the Rockwood Geo Pro Lite that sets it apart is that is it designed to be lightweight and easy-to-tow. Rockwood had the more environmentally conscious in mind when they designed this RV, because they were made to be pulled with more fuel efficient crossover vehicles or small SUVs as opposed to the larger, gas guzzling trucks that other RVs must be towed by. So you can save money on gas as well as be more environmentally friendly.
There are so many things to enjoy about our Rockwood Geo Pro Lite travel trailers. So if you are ready for easy travel at the campground or off the beaten path, feel free to contact us today! Then come on by our location to check them out for yourself!